NBA Christmas Day Sports Betting Plays 2022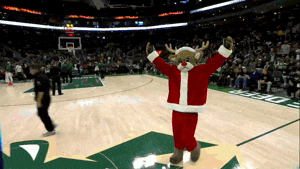 Merry Christmas and Happy Holidays to all of the loyal BTB readers. I hope that these picks bring you some added joy on this Christmas day. I'm going to provide a brief write-up on each game and then some official picks and leans on games. There may even be some sprinkles. Last year on Christmas it… did not go well. I was pushing for plays, I won't do that this year. We only have two official plays. For most of you, the NBA starts today anyway as many don't care about it before Christmas.
76ers vs. Knicks, 12 ET
Philadelphia comes into this game looking really solid after a perfect 7-0 homestand. This is the start of a four-game road trip, and the second time they will play the Knicks this season. In the first game, New York took it down 106-104 on the road. The Knicks were a 2-pt road dog in that game and won outright. Guess who did not play in that game though? Joel Embiid and James Harden. Now, Tyrese Maxey had a great game and dropped 31 points. He will not be with the team today, but Embiid and Harden will. The Knicks have looked impressive prior to their last two games. They won eight straight and then dropped games to the Raptors and Bulls who seem to have figured something out. This is the last game for the Knicks before they head back on the road for a three-game trip. One spot that has seen a lot of success this year is the Knicks in the first half of games. Overall on the moneyline they are 21-12 in the first half of games. The 76ers are 13-16-2. At Home, the Knicks are 11-6 on the moneyline, and on the road, Philly is 4-6-2. You probably can see where I'm going with this. I like the Knicks in the first half. Having been at home and staring at the same rims and sight lines helps. The 76ers may come out a bit sluggish after being at home themselves for so long. I am taking the Knicks 1st Half Moneyline for this at +105.
For the game, I think the 76ers are the better team. It is just a lean but 76ers ML -125 is good to me. I'd also lean under – it is too low of a total to play – but these early games are not normal for most players and they tend not to be lower-scoring.
Lakers vs. Mavericks, 2:30 ET
I think this game would probably be more interesting if it was Luka vs. LeBron in a one-on-one game. The Lakers are fresh off of a loss to the Hornets at home and have allowed 130 points or more to opponents in three consecutive games. The Mavericks are returning home for the start of a three-game homestand. They've been significantly better at home this season, but Luka has next to nothing in terms of help on this team. They are 17-16 on the season and he has led them in scoring in all but eight games. That includes a couple that he has missed. They have yet to play this year, but last season the most recent matchup saw Dallas win by 18 and the game had a combined total of 238. I don't have an official for this, but I'd play Mavs -7.5 if I had to. LeBron might still have some motivation to play well on Christmas, but he looks done with this team when AD isn't around.
Bucks vs. Celtics, 5:00 ET
Khris Middleton is probably not going to play in this game and I still can't pull the trigger on the Celtics. They looked good against a really underperforming Timberwolves team, but even that game they couldn't pull away until the fourth quarter. Milwaukee comes in after getting beaten badly by the Nets and have had one of the strangest travel schedules I've seen in a while. I prefer the Celtics at full strength over the Bucks without Middleton, but keep in mind Milwaukee was sent home last year by the Celtics and this is their first meeting of the season. The Bucks do have an extra rest day after this game, so expending energy shouldn't be a concern. Boston stays at home after as well, so both teams should be fighting hard the whole game. Last time Boston was a 5-pt favorite at home against the Bucks… Game 7 last year when they won by 28. Milwaukee is also 2-4 with an average margin of loss of 12.3 this year as a road underdog. That is a bit heavily influenced by a 42-point loss to Memphis recently. I think the Celtics are better than a Bucks team without their best player.
Grizzlies vs. Warriors, 8:00 ET
A lot will be made about the fact that the Warriors are at home. I mentioned on a podcast I was on the other day that the Grizzlies at -4 on the road if they lost to the Suns would be a max play for me against the Warriors. They crushed the injury-depleted and Booker-less Suns, so no max here. However, I still like the Grizzlies even at the higher -6.5. Last season, they were knocked out of the playoffs by the Warriors. Ja Morant got hurt and then the season ended for Memphis. What better time for the Grizzlies to kick the Warriors than when they are down Steph Curry. The Warriors have played without Curry 34 times over the past two years. They are just 11-23 in those games and at home are 3-4 in that stretch. The wins were close games. I don't know that the Grizzlies will even allow this game to get close. The Warriors at home are 10-4 in the first half ATS, but a lot of that comes from Curry and the way that Kerr sets his lineup. Grizzlies are just 9-7 ATS on the road but I'd prefer them in the first half. Draymond Green may not play in this game, and Andrew Wiggins won't return. Trends would tell you to take Golden State but so many of those trends are based on Curry being in the lineup. I'm taking the Grizzlies -6.5 for 2u. Jordan Poole props are very much in play, but Dillon Brooks might be asked to guard him.
Suns vs. Nuggets, 10:30 ET
The Christmas Day nightcap in the NBA is also missing star power as Devin Booker may not play. I'm sorry to keep this one short, but it is relatively simple. If Booker plays, I'm probably not touching the game. If Booker doesn't play the Nuggets will win the game and cover the spread probably up to -7 is something to be comfortable with. I would've leaned over but again, without Booker, scoring goes down for the Suns. Denver is also 4-9 to the under at home this season as a favorite.
Official Plays:
· Knicks 1st Half ML +105 (1u)
· Grizzlies -6.5 -110 (2u)
Sprinkle Plays - mostly for fun:
· Halftime/Fulltime Knicks/76ers +550 (Knicks winning first half, 76ers win game)
· Ja Morant triple double +750
Leans:
· Mavs -8
· Celtics -5
· 76ers ML -125
Good luck and Merry Christmas.
- David
For NBA news, free plays, and general sports betting information, follow David at @futureprez2024
Follow the entire BTB team - @BeatinTheBookie and @BTBJesse